Weddings in the woods of Lombardy, immersed in a magical world of green
Lombardy, a vast region rich in extremely diverse landscapes, boasts many beautiful spots to celebrate your marriage in the open air.
A wedding surrounded by ancient trees and breathtaking fairy-tale landscapes is a dream come true for many nature lovers. Could Lombardy be the perfect place for your "I do"? 
Whichever type of ceremony you choose, you can find large and charming spaces amongst the trees to decorate according to your taste and theme. The forest is also green in more ways than one, offering the perfect backdrop for eco-conscious couples to spend an unforgettable day with friends and family. 
Forest weddings in Lombardy: nuptials immersed in the beauty of nature
There are romantic and evocative wedding locations scattered throughout the whole region, just waiting to be discovered. Whether you want a more elegant, classic or minimal theme, the forest can adapt to suit your needs and those of your guests, letting your imagination and creativity run wild. A large banquet table creates a striking scene in the shade of the majestic old trees, with colourful autumn foliage forming a soft carpet to guide guests to their seats.
In fact, autumn is the ideal season to experience the true beauty of the woods, when nature is painted in warm and welcoming shades and the weather turns mild, with sunny days and spectacular sunsets. To emphasise the scents and colours of your surroundings, you can choose decorations in shades of chocolate, burgundy, red, yellow and orange.
Transforming the woods into your ideal wedding venue
When it comes to planning an event, the key words are unity, consistency and originality: the chosen theme must be reflected in every detail for a striking and harmonious result. The location should be evocative and bathed in warm colours, letting your guests breathe in the beauty of nature and the joy of the celebration.
To create the perfect backdrop for your big day, you need to find a large flat space that you can transform with decorations, lights, lanterns and candles. A clearing can be the perfect spot to exchange your vows, while wedding receptions need plenty of space to lay out the tables. To share the magic with your guests, never underestimate the importance of stationery, from the save-the-date cards to the tags for favours, and from the menus to the thank-you cards.
The graphics and colours will set the theme of the event and form a common thread that ties all the elements of the wedding together. Additionally, there are floral centrepieces and table arrangements to suit every event. For example, a long banquet table can create a striking effect, while a cluster of round tables reflects a more warm and intimate ambiance.
A wedding in the woods is like a joyful embrace: a unique experience that warms the soul and enriches the heart, letting emotions run free in a unique and meaningful setting. The imposing trees and gorgeous leaves embody nature in all its glory, creating a harmonious backdrop for a romantic and personal event. For a unique and impactful wedding invitation suite, let the shades of this incredible season take centre stage. Nature's colour palette is guaranteed to create a sophisticated result. Finally, golden details are the perfect choice to enhance the intense autumn shades.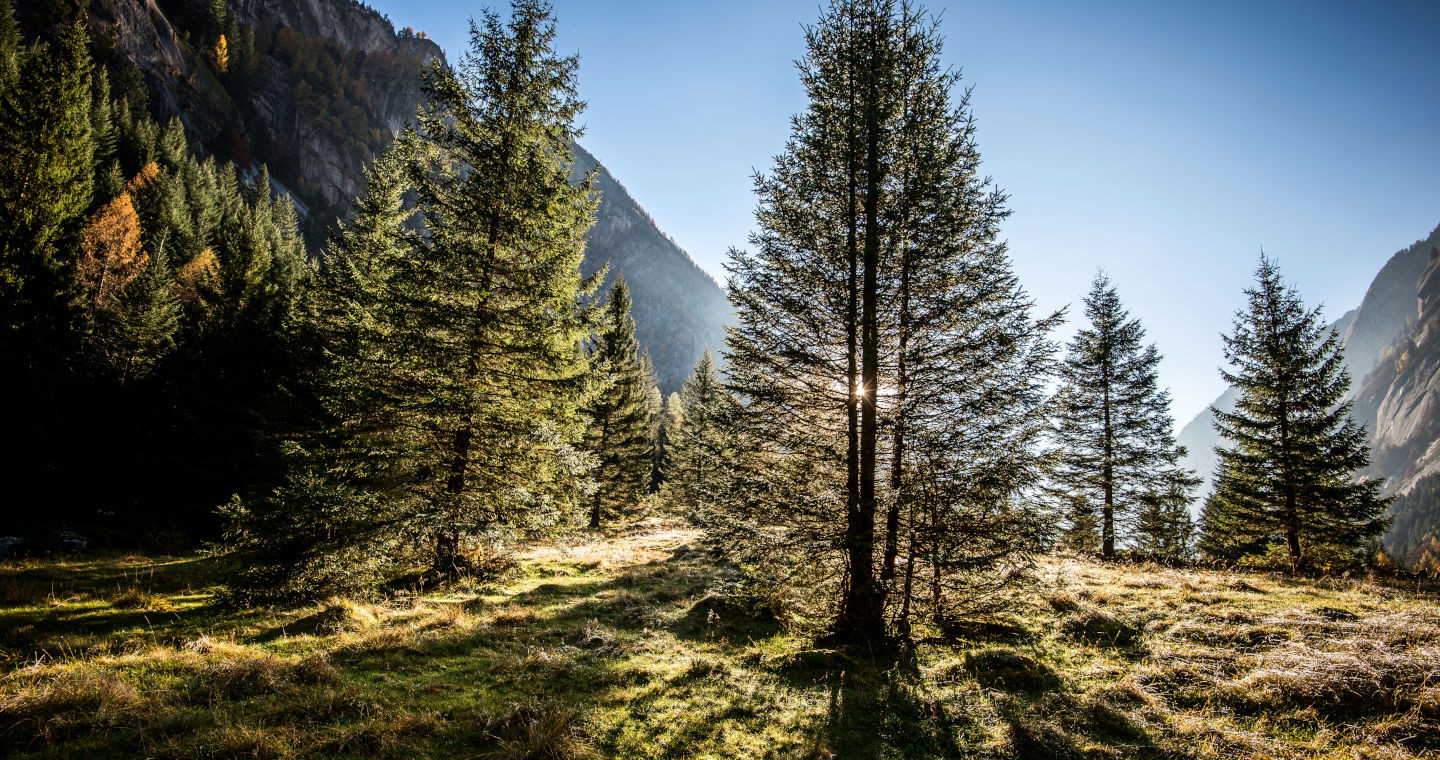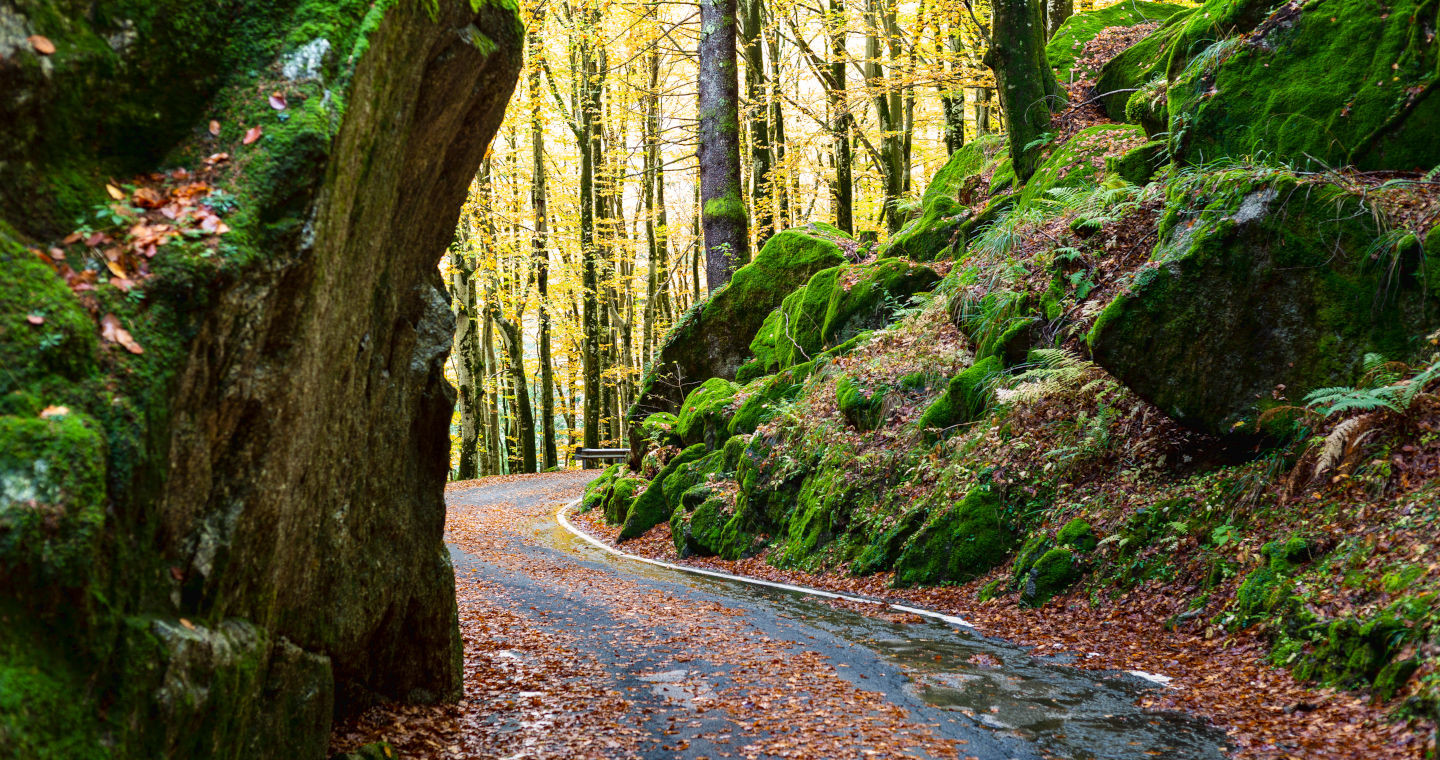 A wedding in the woods of Lombardy: let nature inspire your creativity
Chestnuts, pomegranates, leaves, mushrooms and grapes can add a unique finishing touch to table decorations and floral arrangements. Alongside bold flowers, elegant candles will elevate the design, emitting a warm light that illuminates the faces of your new spouse and your guests. By covering the long branches of the trees with sparkling lights and lanterns, you can create a magical setting straight out of a fairy tale.
Once you take your place at the table, you'll feel like you're dining under a wonderful starry sky, savouring refined and delicious dishes based on local and seasonal ingredients. The autumnal options on offer include risotto, stuffed pasta, roasted and braised meats with traditional Lombard mustard, as well as countless other dishes. And don't forget the rich and full-bodied wines produced in the region, including Merlot, Oltrepò Pavese and Lambrusco: perfect pairings to satisfy even the most demanding palates.
Every aspect of your wedding deserves a magical and bucolic backdrop, and cutting the cake is no exception. This special and unforgettable moment also marks the start of the party where you can dance the night away under the Italian stars and glittering lights.
The most beautiful forests for your big day
From the bewitching views and mountains of Valtellina to the Apennine belt of Oltrepò Pavese, the Lombard countryside boasts many stunning locations. However, if you don't want to stray too far from the city, you can also find large green spaces near Brescia, Bergamo and Varese, often surrounding castles and historic villas.
Some of the best known estates include Villa Castelbarco in Vaprio d'Adda, Villa Valerio in Casciago, Villa Valenca in Rovato, Villa Mattioli in Lesmo, and Il Castello degli Angeli in Carobbio degli Angeli. Immersed in nature, these five incredible locations are perfect for couples who want to hold their ceremony and reception in a single setting. 
Last but not least, when you start planning your wedding in the woods, always remember to ask permission. If it's a public space, reach out to the local government, and if it's a private wood, talk to the owner! Discover a range of magical places to celebrate your wedding.
-
Cover: Milano, foliage al parco