Wedding locations in Bergamo surrounded by art and design: for an unconventional celebration!
A city that conquers everyone with its medieval heart perched on the hillside, surrounded by the imposing Venetian Walls, which are now a Unesco World Heritage Site.
A city that can be perfectly divided into two: the Upper Town, or the historic centre, and the Lower Town, the modern centre. And it is here, in Bergamo, that your art and design themed wedding can really come to life!
Wedding in Bergamo surrounded by art and design: ideal locations for your "I do".
Choosing the right location for your wedding in this city is easy thanks to the wide choice of spectacular wedding venues such as castles, chic farmhouses, or more individual and unusual places such as the Accademia Carrara.
Saying your "I do" in a frescoed chapel, embracing your guests amidst portraits and works of art, and raising a toast surrounded by relics and artefacts is possible in Bergamo. In fact, today it is possible to get married in the classic municipal seat of Palazzo Frizzoni, as well as of the city's museums.    
An innovative choice that harmonises with the current trend for weddings. If you are dreaming of a unique and once-in-a-lifetime wedding in this city, a cultural location such a museum could be the perfect solution.
But where should you celebrate your wedding?
Inside La Carrara, one of the main Italian art galleries established in 1796 by Count Giacomo Carrara. Its rooms contain no less than 1800 works of art, including masterpieces by Raphael, Botticelli, Mantegna, Tiepolo, Canaletto, Moroni, and Lotto. Strolling among its paintings and sculptures allows you to immerse yourself in a history of eternal beauty. Choosing one of the two halls as the location for your civil ceremony will provide you, your other half, and your guests with a unique experience.
The GaMeC, on the other hand, is a little different. With a decidedly more modern character, and an exhibition space of 1,500 square metres, it hosts national and international works and temporary exhibitions. The contrast between the 15th-century monastery and its avant-garde contents is a real throwback and the perfect setting for your "I do".
If you love both the natural world and the world of art, opt for the hall of the Museo Civico di Scienze Naturali "Enrico Caffi" (Enrico Caffi Museum of Natural Sciences), which houses over 55,000 thousand exhibits.    
Getting married in a historic venue is an experience of discovery. These artistic locations are chosen above all because they offer a scenic and exclusive setting with a historic and avant-garde feel.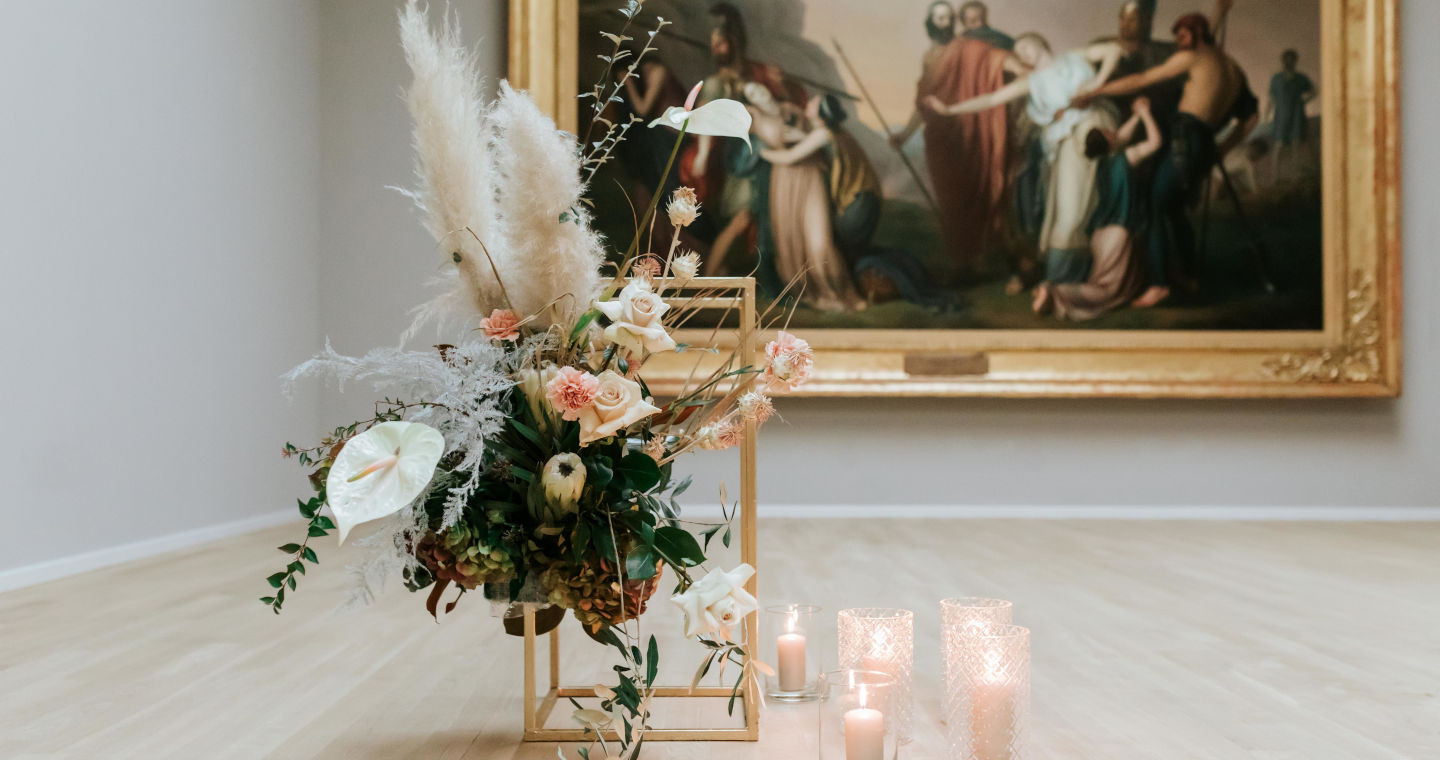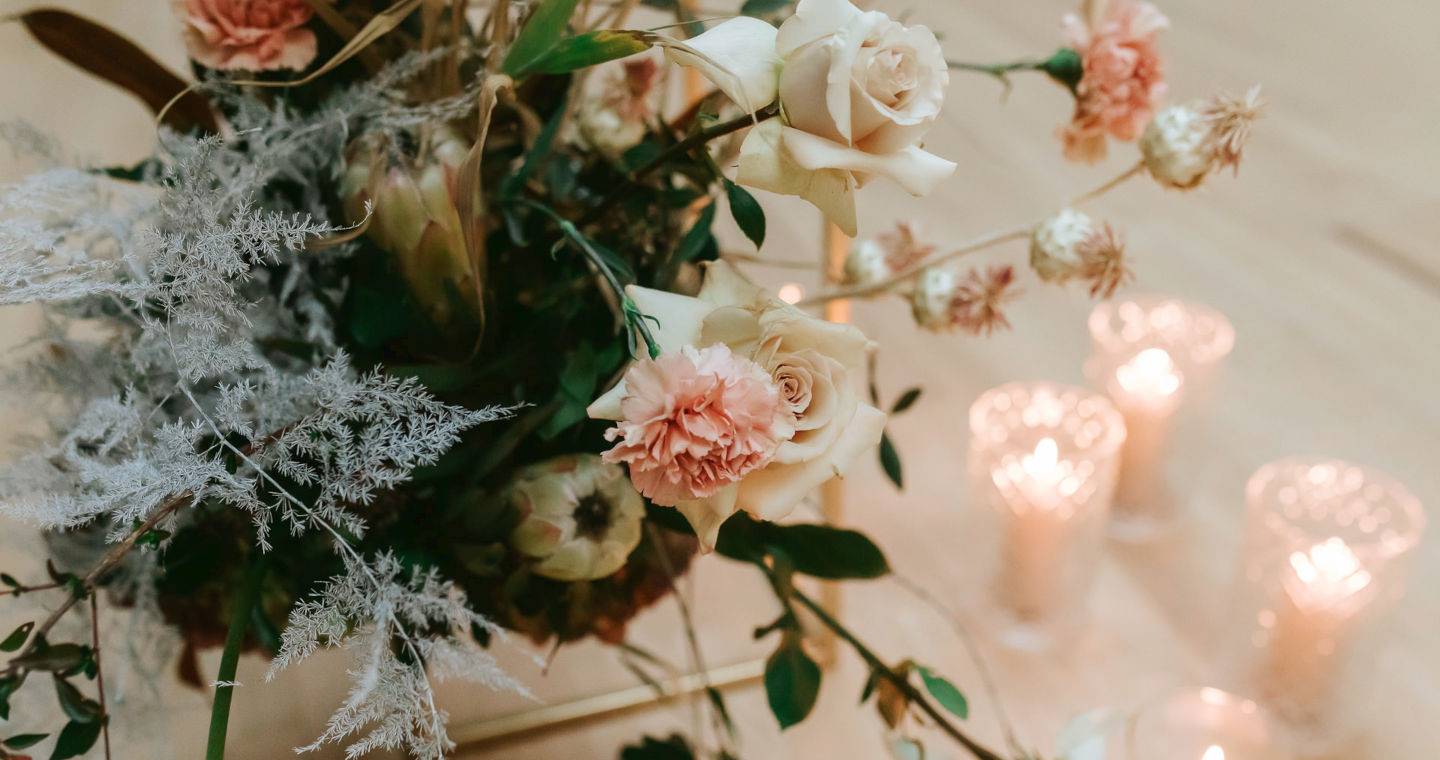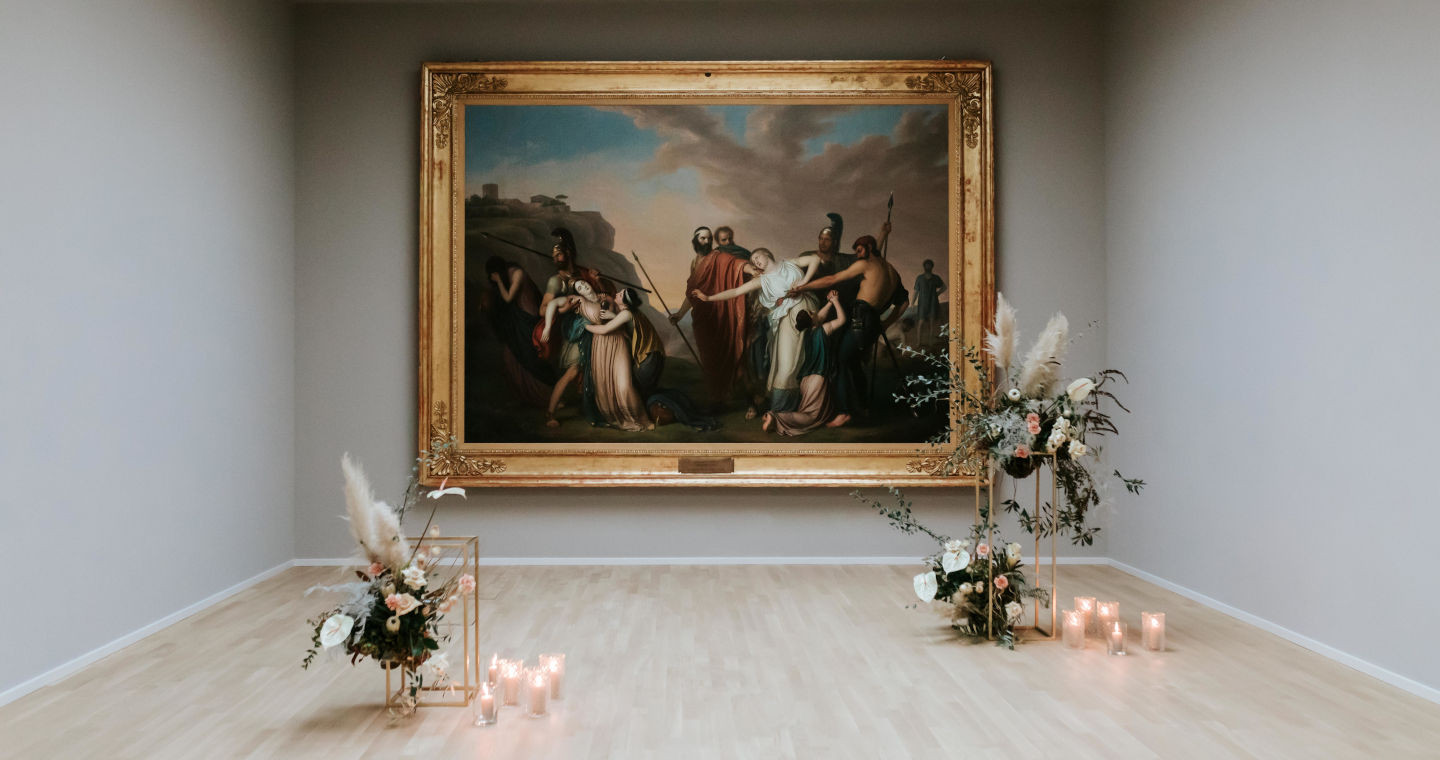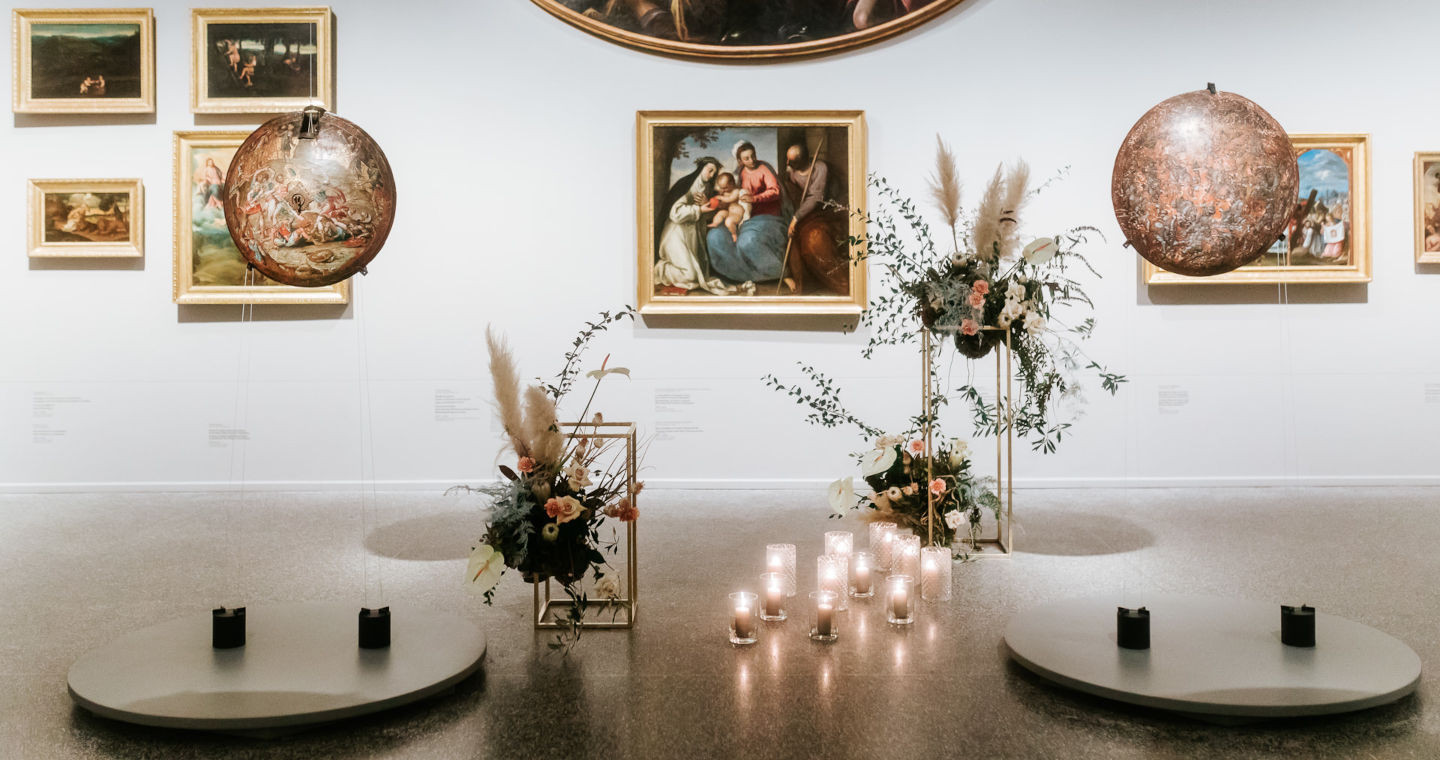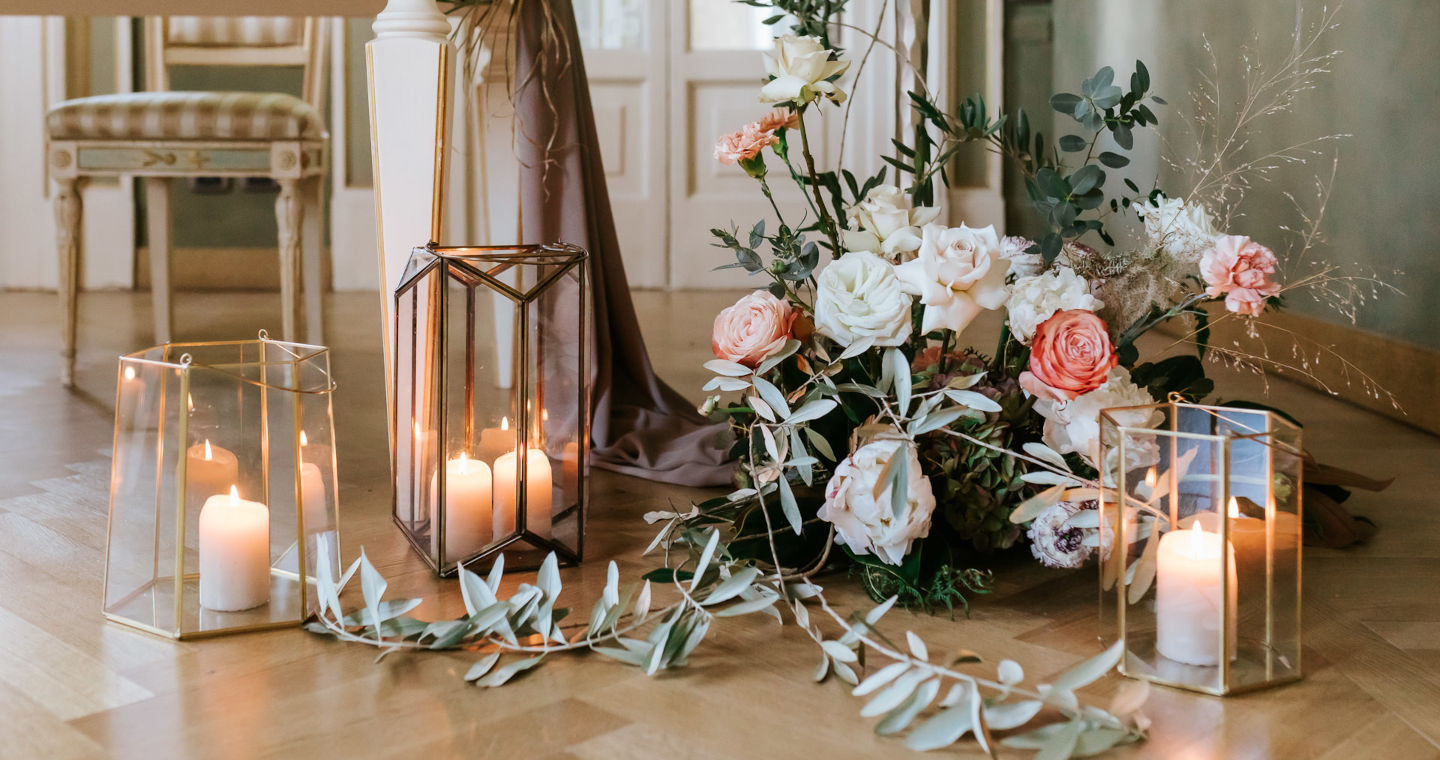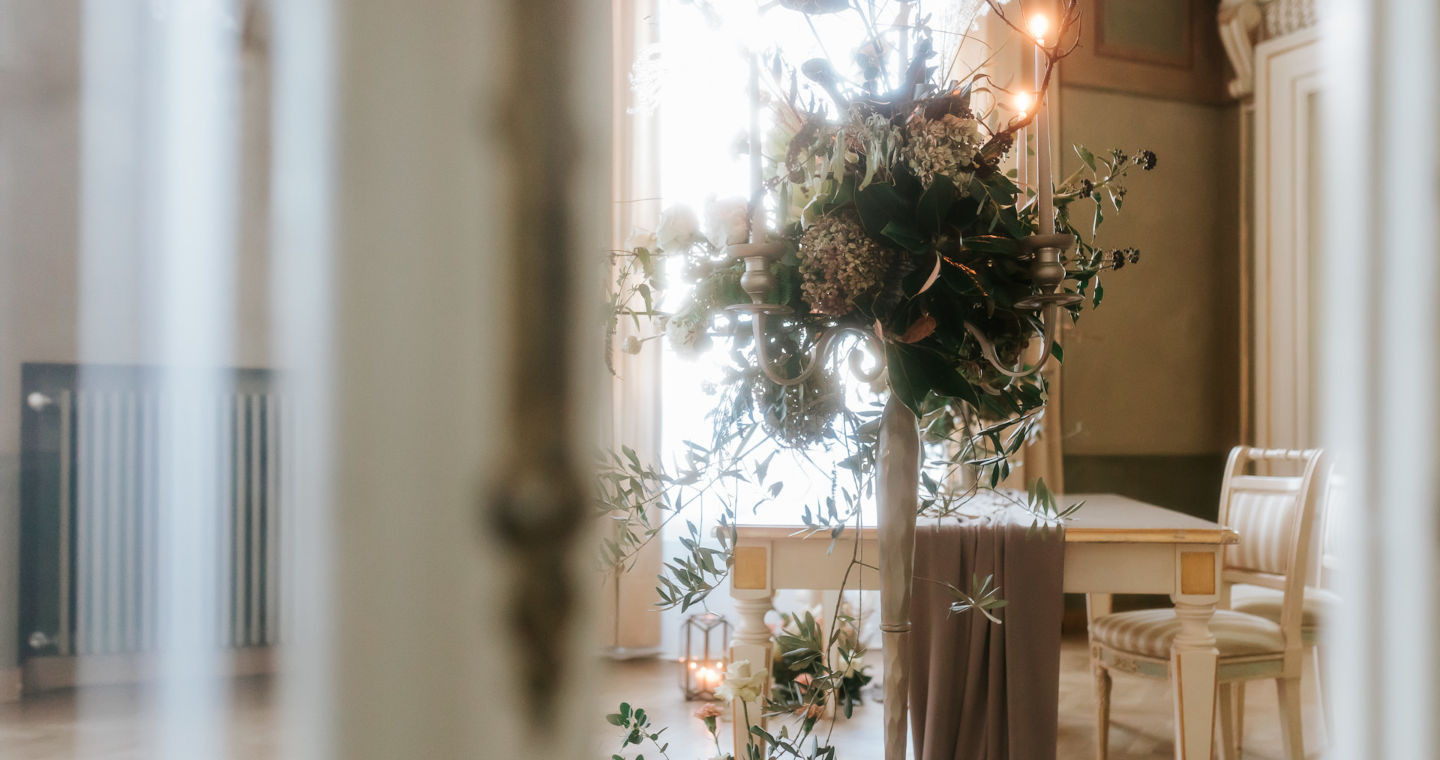 A theatrical wedding? In Bergamo it's possible
At the Donizetti Theatre in Bergamo, which offers its foyer exclusively for dream weddings, you can organise a wedding with the theme of "One Thousand and One Nights".
The theatre has a complex history that begins in the 18th century with the Teatro Riccardi, named after a merchant who built the city's first permanent theatre on the site where the Donizetti now stands, and continues with the naming of the theatre after Gaetano Donizetti in 1897, on the occasion of the centenary of the composer's birth. Since that year, the theatre, always attentive to experimentation and innovation, has characterised itself with the quality and variety of its theatrical offerings, becoming one of the most important theatres on the Italian scene and the ideal location for an art and design wedding in Bergamo: a perfect combination of past and present.
In addition to the foyer, on the piano nobile, in the forepart of the theatre, is the Sala Riccardi. A large and bright hall, a prestigious and elegant space that owes its splendour to stuccoes, frescoes and Art Nouveau decorations.  It is the ideal location for civil weddings, buffets, and cocktails, with the possibility of welcoming up to seventy seven guests. 
Getting married in Bergamo will allow you to enjoy a unique landscape of mountains, hills and ancient walls.  What backdrop could be better than the magnificent view from the Upper Town for your post-ceremony photo shoot?
Swearing eternal love in Bergamo's Upper Town
Perhaps the most evocative corner of Bergamo is the Upper Town, which holds many treasures waiting to be discovered. Among its hills you can find different solutions depending to your wishes: outdoor spaces with the stunning landscape as a backdrop, or indoor areas surrounded by works of art.
The most magical and unique of all is undoubtedly the Lorenzo Rota Botanical Garden, located on the Open Hill in the Upper Town.    
 An intimate place surrounded by greenery, it is perfect for a wedding that blends culture and nature.
Then there is the Convent of San Francesco, where you can choose to say your momentous "I do!" in the splendid Sala Capitolare, which is rich in frescoes painted between the 14th and 17th centuries. A location on the hill of Sant'Eufemia, not far from Piazza Vecchia. A wedding venue with a breath-taking view of the mountains and the meeting of the two valleys: Brembana and Seriana. The convent now houses the Sestini "Bergamo 900" Museum of Photography and temporary exhibitions.
Finally, there is no shortage of palaces and historic houses. 
Palazzo Terzi, for example, as well as being a historical residence, is unique for its courtyard and the panorama that is visible from the terrace, its splendid rooms, frescoed ceilings with crystal chandeliers, elegant furniture, mirrors, elaborate wooden floors and precious paintings.    
It is a unique and sought-after location, just like Palazzo Moroni, a seventeenth-century building that preserves decorated interiors and an impressive art collection, as well as an Italian-style garden and a historic park in the heart of Upper Town, where it is possible to celebrate a civil ceremony.
These are the magnificent places where you can say your momentous "I do!" in a civil ceremony, celebrate with a dream reception and enjoy an art and design wedding in Bergamo, amidst magical backdrops and breath-taking landscapes, for an unforgettable wedding memory.
What are you waiting for? In Bergamo, many extraordinary locations await you for your wedding.