Street art brings a splash of colour to Lombardy
Now an officially recognised and celebrated art form, street art has become widespread throughout Lombardy. Anyone who takes a walk through the city streets is sure to spot some stunning metropolitan frescoes created by internationally renowned street artists.
Urban art is flourishing in the cities of Lombardy—Milan, Brescia, Mantua—and, in this difficult year, it has given us a chance to become tourists in our home towns! 
Let's explore some street art masterpieces, which represent important urban renewal opportunities and expressions of a contemporary art form, and have even made it to the Uffizi Gallery in Florence, where Autoritratto (self-portrait) by Endless is on permanent exhibition.
Urban graffiti or art in the city?
Street art encompasses any artistic expression that unfolds in a public space. The term is primarily used to refer to elaborate, authorial and signed works (see Banksy's provocative pieces), a figurative and graphic reflection of the American hip-hop culture of the 1970s. 
Its origins may be intertwined with graffiti, but street art is more actually closely linked with murals (part of Italy's artistic heritage), and today it draws influence from various disciplines, including painting, graphic design, photography, architecture, design... 
But before you take to the streets with your paint cans and brushes to attack a freshly plastered wall, remember that the law will penalise anyone who creates any unauthorised street art. The city can become your canvas, but even artistic spirits need to play by the rules, as seen in Milan's official art projects.
Public art: the painted walls of Milan
One of Italy's three historical schools of street art is found in Milan, and the city is truly rich in works: frescoes, installations and even sculptures, including both spontaneous creations and commissioned pieces from artists and collectives. The municipality of Milan has therefore opened an office dedicated to street art, complete with a map showing 100 free walls in 70 areas of the city and opportunities for artists to propose projects. 
Milan is also home to the MAUA, a widespread and participatory Museum of Augmented Urban Art: anyone can explore the streets of Milan, Palermo and Turin and transform the images they take with their smartphone into works of digital art, which are animated in augmented reality on the website.
Milan, where historical murals meet modern art 
The historic Ortica district of Milan has been transformed into an open-air museum thanks to the Or.Me (Ortica Memoria) project by the Orticanoodles collective: 20 murals tell the story of twentieth-century Italy, paying tribute to some of the most important figures. They are all worth a look, but Gli Orti dell'Ortica brings a real burst of colour to the grey city streets. A little further afield, on Via Viotti in Lambrate, is Anthropoceano, an eco-friendly smog-eating mural painted by Iena Cruz with paints that reduce the pollutants in the air.
On Via Benaco, Zed1 proudly signed his celebrated CuciMilano: a tribute to Milanese multiculturalism, it portrays a Chinese seamstress sewing together the flags of all the people who live in the city. Over at the Giardino delle Culture on Via Morosini, Millo created Lost and Found, a beautiful black-and-white diptych sprinkled with red hearts. At the HangarBicocca, you can find the first Italian mural by the Brazilian artists Os Gemeos, Efêmero, which depicts a boy hanging from a metro car with a sweatshirt and rucksack, ready to jump.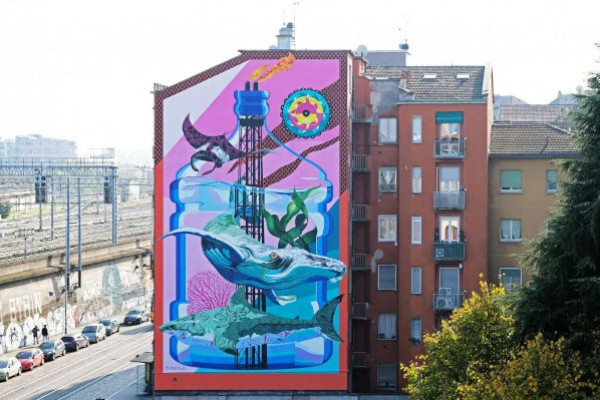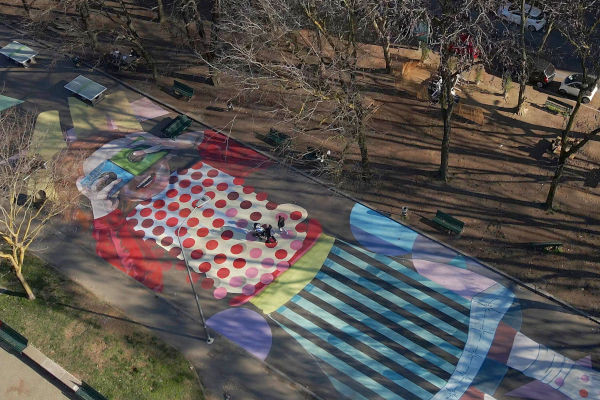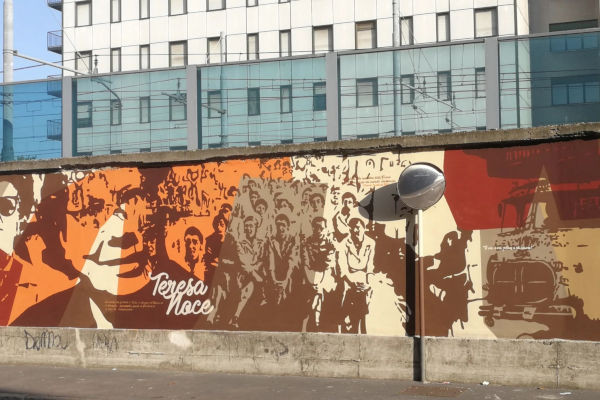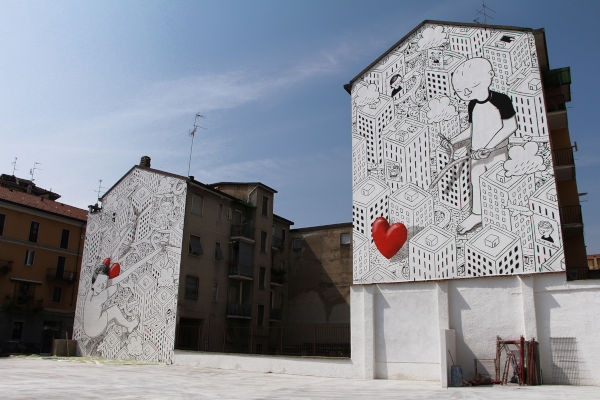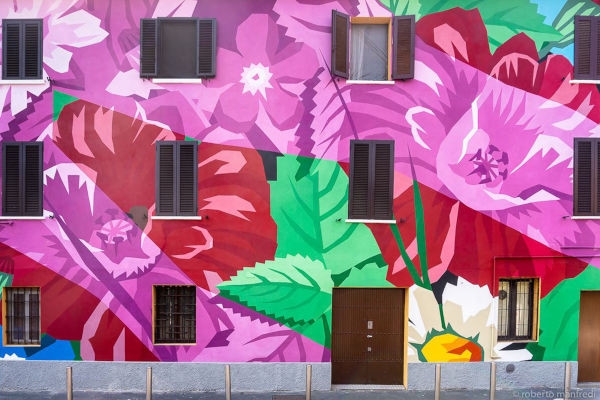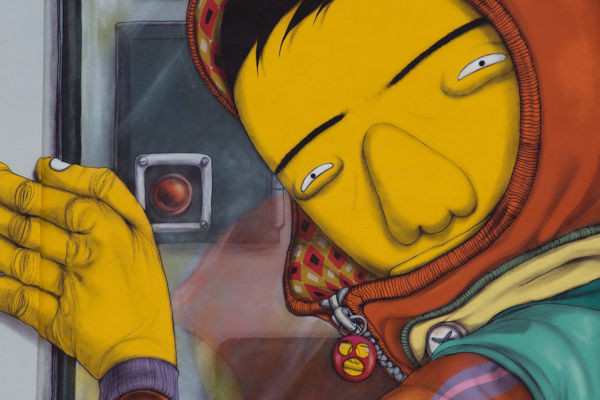 Floor art: good enough to walk on
One of Milan's most recent art projects, Piazze Aperte, saw Camilla Falsini creating graphic floor art in Isola, complete with mazes and games for children. She was also responsible for the colourful geometric designs in Piazzale Loreto. Another artist, Smoe, designed an art piece to mark the centenary of the birth of Gianni Rodari, transforming Piazzale Tripoli into a playground. Finally, Pao and Laura Pasquazzo (Pao Pao Studio) decorated the middle school on Via Sapri with a large Bauhaus-style mural… Pauhaus.
Street art festivals in Mantua and Brescia
Mantua: the Lunetta neighbourhood has been hosting the Without Frontiers. Lunetta a Colori festival since 2016, an urban renewal project that encourages famous street artists to decorate the buildings. More than 40 works have been completed, including the incredibly long Tsunamy mural by Joys (826 metres).
Brescia: the municipality and the True Quality association have been organising the Link Urban Art Festival since 2016. Three must-see works from 2020: the Luogo Comune murals in the San Bartolomeo neighbourhood; the floor art by Taleggio and Giovanni Dallospazio in Lamarmora; and Vesod's Era, appearing on one of the festival's largest walls in the Violino district.