Cycle Tourism

Active & Green
Lombardy by bike: five family-friendly routes
Mincio cycle path to the Naviglio di Bereguardo  Along embankments and canals amidst vineyards and paddy fields. Five easy cycle routes in Lombardy. For a family-friendly bike ride.
1. Mincio cycle path (MN)
This route starts in Desenzano and joins the Mincio cycle path, otherwise known as the Peschiera Mantova. You can tell the kids that they're very privileged: they are riding one of Italy's very first cycle paths. The venerable path is a dedicated cycle route for almost its entire length and slopes gently downhill for 43.5 km along the Mincio. The only hard thing about it is deciding whether to go back the same way or return by train from Mantua. Beyond the river, your travelling companion is the landscape: rural, woodland and wetland scenes flash by, complete with peat bogs and fountains. The finish point in Mantua is surrounded by three lakes, Lago Superiore, Lago di Mezzo, and Lago Inferiore.
2. Naviglio Grande (MI)
The most quintessentially Lombard bike ride starts at the Church of San Cristoforo on the Alzaia Naviglio Grande in Milan. This is shown on Google Maps. From here, it's an easy jaunt, even for children, to the Ticino Valley natural park. The Naviglio Grande canal, skirted by a path for cyclists and walkers, was built to carry grain, timber and marble from Lake Maggiore to the Duomo construction site. After Trezzano (approximately 12 km from the Darsena), the roads become quieter and more traffic-free as they wend their way towards Cusago and Cisliano. Pick up the Naviglio cycle path again in the ancient hamlet of Robecco, with its fine 18th century pier. By now you'll already have clocked up 30 kilometres. You can turn back to Abbiategrasso through the zero-growth village of Cassinetta di Lugagnano and return by train with your bikes.
3. Franciacorta (BS)
Back in the 16th-century, a man named Dr Conforti came to the happy conclusion that this garden-like morainic basin would be a good place to make sparkling wines. And the Franciacorta fizz is bound to come as a pleasant surprise on this route along undulating roads, between sloping terraces, parish churches, vineyards and monasteries. If you're with children, it's a good idea to take the partly protected cycle path from Paratico towards Brescia. The fully paved trail wanders through Clusane sul Lago and then strikes off toward the Torbiere del Sebino Nature Reserve, a picturesque patchwork of woodland and water traversed by 2 km of unsurfaced track. Kids and adults alike will love crossing the middle section on wooden walkways. The Cluniac Monastery of San Pietro in Lamosa offers fine views over the wetlands.
4. Valtellina path (SO)
Unbelievable as it sounds, you can cycle in the mountains with children, even without electric bikes. With bike hire points and well-appointed rest areas, the Valtellina path makes life easy: you can cycle the whole thing downhill and on the flat in the most central sections. The path for cyclists and walkers runs along the Adda, from Bormio (1225 metres) to Villa di Chiavenna (633 metres) through Tirano, Sondrio, Morbegno, Colico and Chiavenna, traversing a landscape of terraced vineyards: 114 km in the Valtellina area and 42 km in Val Chiavenna. The two routes meet in the Pian di Spagna and Lago di Mezzola Nature Reserve, a stopping-off place for migratory birds north of Lake Como. Because the railway runs parallel to the path for most of the route, you can choose any section of the path and still return by train, but don't leave before you've tasted bitto, the local cheese.
5. Naviglio di Bereguardo (PV)
In the summer of 1895, a then unknown Albert Einstein cycled through the Pavia area when visiting his family as a student. You could tell the kids that the waters of the Ticino might have inspired Einstein's restless genius, which may or may not be true. One thing we can be certain of is that his piano is kept in Castello Visconteo, which houses Pavia's Musei Civici. This bike route starts from the Ponte Coperto or Covered Bridge in Pavia and finishes in Abbiategrasso (40 km on the flat). Cycle past meanders and flood plains to the creaking Ponte delle Barche in Bereguardo. After the only slight hill on the route, join the Naviglio di Bereguardo cycle path and continue for 20 km alongside basins, locks and stone bridges. It's well worth stopping off on the way to admire the Morimondo Abbey dating from 1136.
-
Photo: Mincio cycle path (Mantua) / Adobe Stock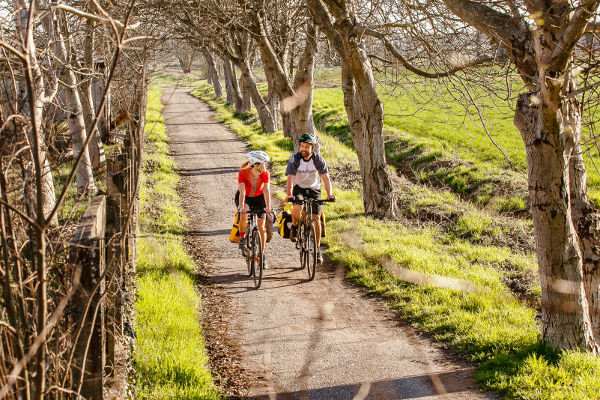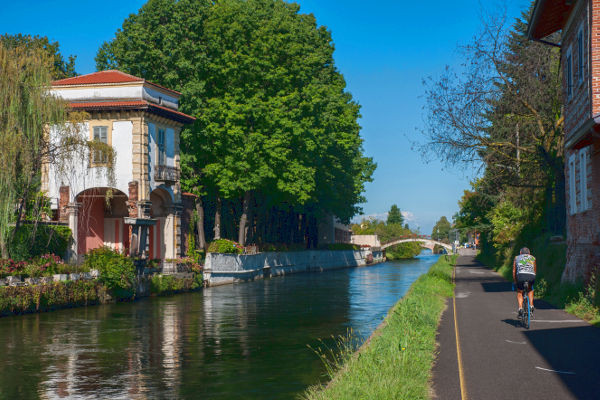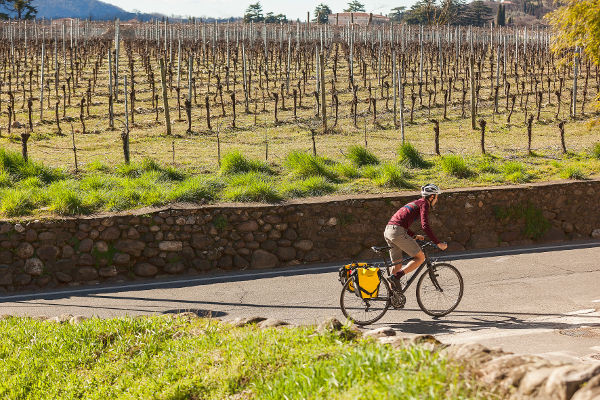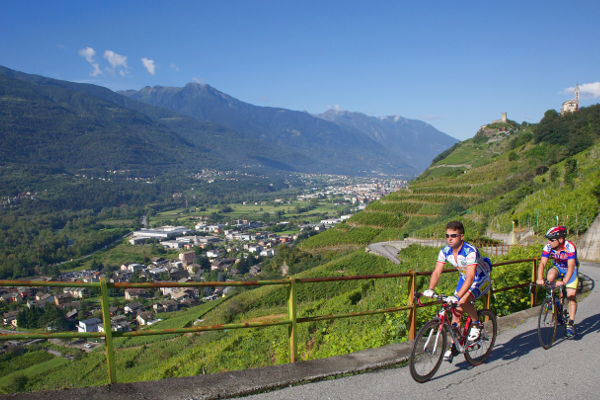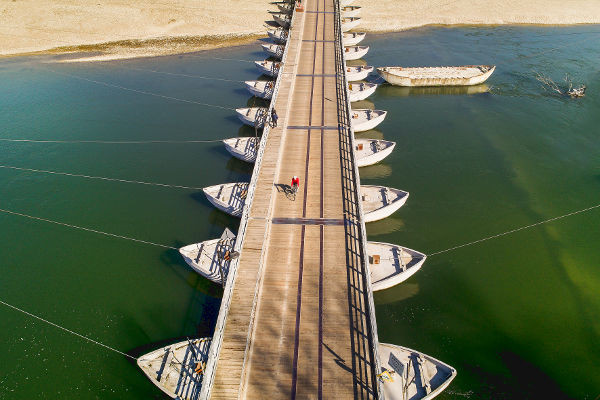 6. Ciclabile del Chitò' (BG)
Un percorso unico nel suo genere, differente dalle classiche ciclovie, è sicuramente la Ciclabile della Valle Imagna. E' un tratto di soli 4 km, si parte da Clanezzo (dista circa 16 km da Bergamo) per arrivare a Strozza. Il percorso è molto caratteristico in quanto è costituito da una vecchia sede di un canale che alimentava la centrale idroelettrica di Clanezzo. Per tale motivo la pista è interamente piana, di facile pedalata (anche se prevalentemente su fondo sterrato), da intraprendere in tutta sicurezza data la presenza di parapetti. Immersi in un panorama unico, tra sorgenti d'acqua e boschi ombreggiati, troverete il Monte Ubione sulla destra ed il torrente Imagna sulla sinistra.
La Ciclovia prende il nome dall' ingegnere che , nel 189, progettò l'omonimo  "Ponte del Chitò",  imponente costruzione idrica con sei arcate di pietra. 
7. Ciclabile Villoresi (MB)
A pochi chilometri da Milano, immerso nella campagna lombarda, questa ciclabile di ben 85 chilometri segue il corso del Canale Villoresi (realizzato a fine Ottocento, è una delle opere d'ingegneria idraulica più imponenti della Lombardia ed anche il secondo canale più lungo d'Italia ). Il percorso pianeggiante e privo di difficoltà, è percorribile da tutti, presenta tratti in asfalto, in sterrato o in ghiaia.
Per i meno allenati si consiglia di affrontarlo a più tappe: si parte da Somma Lombardo per terminare in prossimità di Cassano d'Adda. Per una pausa in assoluto relax, da non perdere è il Parco della Boscherona ed il Parco della Reggia di Monza (di grande valore storico, naturalistico ed artistico, è tra i parchi cintati più grandi d'Europa). Prima di raggiungere Cassano d'Adda, potete cambiare direzione verso il centro di Monza per una visita al Duomo, all'Arengario e ai Musei Civici.
8. Ciclabile del Lago di Varese (VA)
Il percorso si snoda esclusivamente lungo tutto il perimetro del Lago (circa 27 km). Essendo quasi tutto pianeggiante (presenta frequenti piccoli dislivelli, una bici con cambi è consigliata!) e con fondo al 90% in asfalto, è sicuramente adatto anche alle famiglie con bambini. E' sempre affascinante percorrerlo, immerso tra le sponde tranquille del lago ed il verde brillante dei prati, è possibile regalarsi qualche ora di svago.
La partenza è prevista da Buguggiate, dopo qualche chilometro è possibile raggiungere il Santuario della Madonna del Lago (Azzate) e subito dopo Bodio Lomnago, con il suo caratteristico porticciolo dal quale si gode di una fantastica vista del Monte Rosa e Campo dei Fiori.
Una piccola deviazione per Cazzago Brabbia, consente di vedere le "ghiacciaie" (dove nel passato di stivava il ghiaccio per conservare il pesce pescato nei mesi caldi). Si continua la pedalata fino a Biandronno, per una veloce escursione all'Isola Virginia e al suo Museo Archeologico. 
Riprendendo il ritmo, si raggiunge l'animato Lago di Gavirate fino ad arrivare al paesino di Calcinate del Pesce e ancora al Lido della Schiranna, dove è possibile ritrovare le energie in uno dei tanti bar e ripartire alla volta di Buguggiate (punto di partenza).
9. Ciclabile del le Città Murate (CR)
Questo è un itinerario di 38 km che si snoda tra le campagne cremonesi. I territori che attraversa sono caratterizzati dalla presenza di fortificazioni importanti, riportando così al passato ed alle antiche "Città Murate".
Si parte da Pizzighettone fino ad arrivare a Soncino (entrambe dotate di cinte murarie). Lungo il percorso si incontrano dei "cartelli marroni" è quindi impossibile perdersi, il fondo è un misto tra asfalto e sterrato.
Da Pizzighettone si attraversano alcune frazioni per fiancheggiare poi il fiume Serio Morto per circa sette chilometri, sino a San Bassiano, dove il percorso della ciclabile delle città murate si sovrappone a un tratto dell'Antica Strada Regina sino a Santa Maria dei Sabbioni. 
Si arriva così a Soresina, da dove si prosegue verso il Santuario di Ariadello e delle Tombe Morte, per terminare all' antica e ben conservata cittadina di Soncino.
Tra i luoghi più suggestivi alcuni scorci dell'Adda e dell' Oglio, le scarpate naturali delle due valli fluviali ed il nodo idrografico delle Tombe Morte. Il percorso tocca inoltre due Parchi : "Valle del Serio Morto" e "Valle dei Navigli".
10. Ciclabile ad "anello" di Paullo (LO)
Questo è un tragitto di facilissima pedalata, asfaltato e lungo circa 25 km, che si rende adatto alle passeggiate in famiglia. Si parte e si ritorna dal Punto Parco Casa dell'Acqua di Paullo lungo le rive  del misterioso Lago Gerundo e le rogge del Lodigiano. L'itinerario offre uno sguardo sul paesaggio rurale che caratterizza il Parco Agricolo Sud Milano e il Parco Adda Sud. 
Da Paullo si raggiunge Zelo Buon Persico, prendendo la ciclabile che da Zelo va in direzione Lodi. Qui è possibile ammirare un'antica ghiacciaia del XIX secolo la cui struttura si distingue per la calotta sferica in mattoni, e per i piccini (ma consigliatissimo anche per i "grandi") vi è il Parco Ittico Paradiso. Ci si dirige verso l'antico borgo contadino di Casolate.  Continuiamo attraversando l'area verde sede del Punto del Parco Parco Adda Sud fino a raggiungere il paese di Galgagnano. Qui si trova e si supera il canale della Muzza adagiato sotto un bel ponte ciclopedonale. Entriamo nel paesi di Mulazzano e di Lanzano. Attraversiamo l'abitato e superiamo la chiesa medievale di San Barbaziano, per giungere alla confluenza con Tribiano. Poco dopo, la ciclabile termina raggiungiamo in poche centinaia di metri la Casa dell'Acqua di Paullo da cui siamo partiti. 
-
Photo: Ciclabile dei laghi – Mantova