Another weekend at home: here's something to do
From comics to Carosello, from great cinema to puppet shows, here are some activities to have fun and enjoy learning without leaving home. Find out more.
In Lombardy culture never stops. Even though museums, cinemas and theatres are temporarily closed, there are plenty of initiatives that allow you to keep your mind on the go. Here are some ideas to bring young and old together: ranging from classic cinema to vintage "Carosello" clips, from comics about the art world to puppets performing great masterpieces. Not forgetting creative tasks for little artists.
Rediscovering "Carosello", with the Musil di Rodengo Saiano
"Carosello" is a must-see for many. In the late fifties you just had to watch these entertaining television sketches screened right before bedtime, created to capture viewers' attention and advertise a wide variety of products. The whole family would gather in front of the TV to relax and enjoy them. Today the MUSIL di Rodengo Saiano, in the province of Brescia, is making its invaluable collection, the Gamma Film legacy, available to everyone to relive those delightful memories at home. Browsing the extensive choice on the dedicated YouTube channel, you can take a gondola ride with the Vigile Concilia, head to the North Pole with Ulysses and his shadow or explore 70s Milan. You can also access a vast array of online tutorials and workshops bringing science and imagination together.
Visit the Musil di Rodengo Saiano.
Reading and learning, with the Fumetti nei Musei comics in museums project
A collection of 51 comics tells the story of Italian museums through the drawings of some of the most famous cartoonists in Italy: the Fumetti nei Musei project represents an innovative and eye-catching way to engage children and young people with cultural spaces. The initiative won the Gran Guinigi prize for best publishing project of the year at the Lucca Comics & Games 2018 festival. A high quality production that combines educational and narrative concepts. To brighten up those hours at home and experience the stories in colour, simply go to the website and leaf through the comic of the day for free.
Read the stories in the Fumetti nei Musei project.
Have fun with the Pillole di Marionette Colla puppets
Puppet shows transport us back in time, bringing back wonderful childhood memories. How many children over the years have watched the adventures of these playful characters created by skilled craftsmen? It's time to rediscover these wonders, allow yourself to be enthralled by the Pillole di Marionette that are posted on the Compagnia Marionettistica Carlo Colla e Figli Facebook page every day. This historic company was founded in the second half of the nineteenth century and performs shows in Italy and abroad. In these times, when we are all at home, it is a real pleasure to succumb to such timeless traditions.
See the Pillole di Marionette Colla.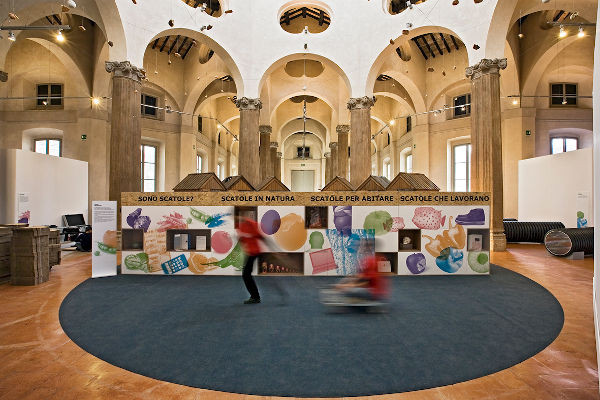 Watch art-house films from the Beltrade and Lab80 from your sofa
Going to the cinema is one of the most popular weekend activities. Why stop now? If you are a fan of art-house films and are looking for new titles to enjoy, just make yourself comfortable and switch on your PC: the Beltrade cinema in Milan and Lab 80 films in Bergamo have come together to bring the latest films directly to your home. You will find a short description and a link to the platforms (also free or with special offers) offering art-house films or documentaries at a nominal price. 
Watch films from the Beltrade and Lab80 from your sofa.
Creative activities with Muba di Milano 
Who said you can't exercise your creativity at home? We all know that children love to run and play in the great outdoors, but they also love to use their imagination, exploring and transforming the materials they find around them. Muba, the Children's Museum of Milan, has a series of workshops and videos on its Facebook page to encourage children's curiosity and artistic flair. There's also a short "galactic" guide on the Museum's website, explaining Coronavirus to children and the steps we all need to take to fight it.
Visit MUBA - the Children's Museum of Milan.
-
FOTO COPERTINA: COMPAGNIA MARIONETTISTICA CARLO COLLA E FIGLI (FACEBOOK)