Summer 2021: celebrating the flavours of Lombardy
It has to be said: there's something for every taste! From festivals devoted to Lombardy's typical stuffed pasta, Scarpinocc and Casoncello, to mushroom and mustard festivals... not to mention the fairs celebrating Bitto cheese, pike in sauce, Alborella fish...
These and many more food and wine events are slated to enliven Lombardy's 2021 summer season and early autumn. 
In the squares, courtyard houses and alleyways of old town centres, you'll be able to buy typical products of the region on display at market stalls, explore the tastes and flavours of typical Lombard cuisine in open-air restaurants, dine on local dishes and specialties and raise a toast with local wines.
The following is a virtual tour of the food and wine fairs, festivals and events you don't want to miss during your stay in Lombardy. A word of caution: always check on the festival's website, or that of the relevant Pro Loco, cultural association or municipality, to make sure the events have been confirmed and discover whether booking is required.
We hope you enjoy our themed menu, featuring the wines and dishes that are celebrated at some of the best festivals in the region.
Main courses: tradition comes out tops at Lombard festivals
Let's start off with stuffed pasta dishes. Named after old-fashioned cloth shoes once worn by children, scarpinocc are shoe-shaped pockets of pasta stuffed with bread and cheese. They are the focus of the "Sagra degli Scarpinocc" in Parre (20-22 August, Bergamo). 
Equally delicious are Casoncelli, a typical dish of the towns of Bergamo and Brescia, strictly handmade following the certified De.Co. recipe (bread, cheese, ham and herb stuffing). Make sure to try them at the "Fiera del Casoncello", held in late September in Bargariga (Brescia). 
If your preference leans towards gnocchi, be sure to stop by Pognana Lario (Como) on August 16th for the "Sagra degli Gnocchi", in Piazza S. Rocco: chefs and volunteers begin work from early morning, mixing water, flour and potatoes, to serve up this delicious pasta dish for your lunch or dinner.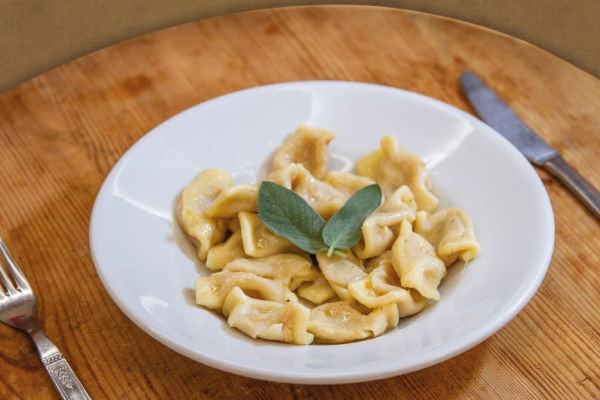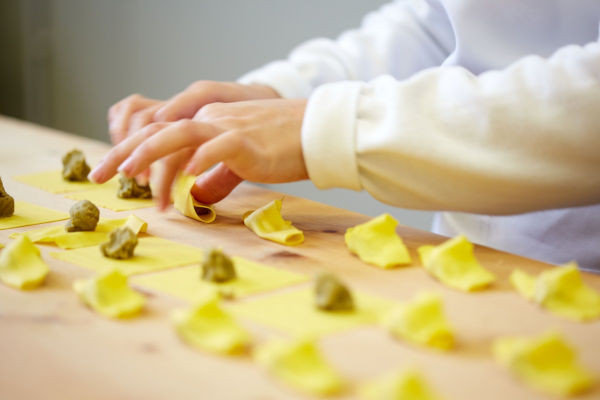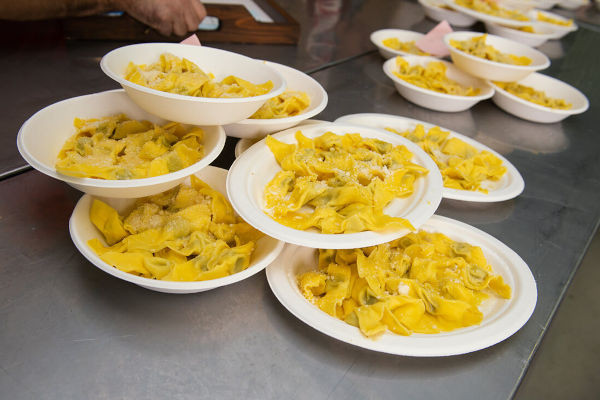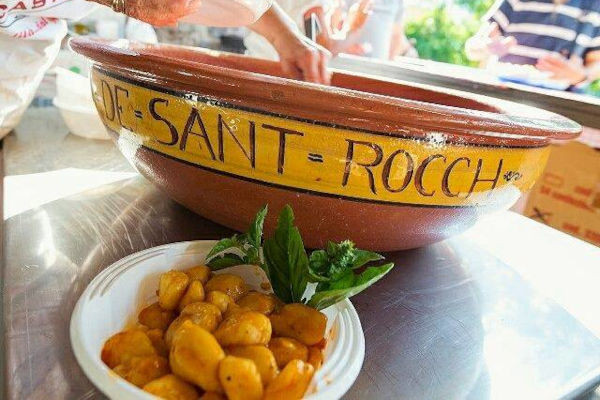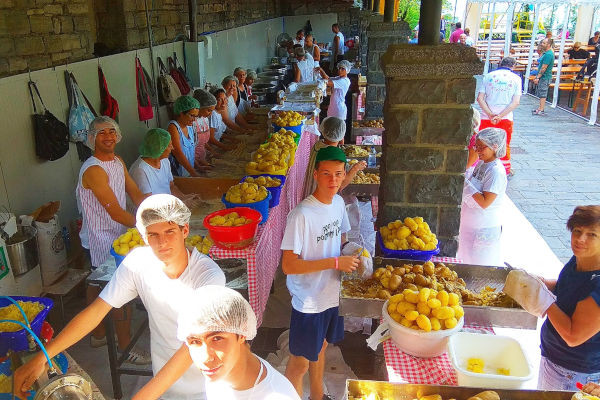 Attend fairs to savour the main dishes of Lombard cuisine
Enjoying the countless unique specialties of the local tradition requires you to be on the spot: a good choice might be Pozzolo sul Mincio (Milan), where the "Sagra del Luccio in Salsa" is scheduled for early September. Its namesake dish is pike with polenta, prepared according to the sixteenth century tradition of the Gonzaga court, now an official De.C.O. recipe. You'll find many other Mantuan delicacies too: pumpkin ravioli, risotto with saltarei (freshwater shrimps) or pork pesto, Sbrisolona cake and Mantuan Lambrusco PDO.
On the first Sunday in October, don't miss the "Sagra del Nedar", a cultural, folklore and gastronomic festival incorporating a trade show of agricultural products, named after the historical "Palio dell'Oca" (Goose Joust). Nowadays birds feature exclusively on the menu, which offers macaroni in duck sauce and roast duck with mustard sauce.
Fancy a little fish? In Brianza, at the "Festa dell'Alborella" in Inverigo (27th Aug-5th Sept), you can savour the delicious eponymous fish, as well as seafood skewers and other fish and specialties of the valleys.
Mushrooms, cheese and mustard: food destinations in Lombardy
Lombardy is the home of mushroom hunting and, more importantly, mushroom eating, particularly in the Alps and Prealps: one such place is the high part of the Brembana Valley. Be sure not to miss Fungolandia 2021 (28th Aug-5th Sept). This mushroom festival offers a rich cultural programme, guided culinary hikes, tastings, aperitifs, special restaurant menus with mushrooms, cheese and wines, for a delicious sampling of the flavours of Bergamo.
The next stop in our delicious food tour is Gerola Alta (Sondrio) in Val Gerola, at the "Sagra del Bitto" (18-19 September), the flavoursome semi-cooked alpine pasture cheese DPO, produced in the heart of the Valtellina Orobie Mountains Park. 
An excellent topping for cheese, Mostarda enjoys its own celebrations in October, in its hometown Cremona. The "Festival della Mostarda" features several events, a trade show, tastings, and meetings with chefs, gastronomy experts and manufacturers of this delightful garnish. Held one week after its sister festival in Mantua, the event is organized by the Regione Lombardia, Unioncamere Lombardia and Mantua and Cremona's Chambers of Commerce.